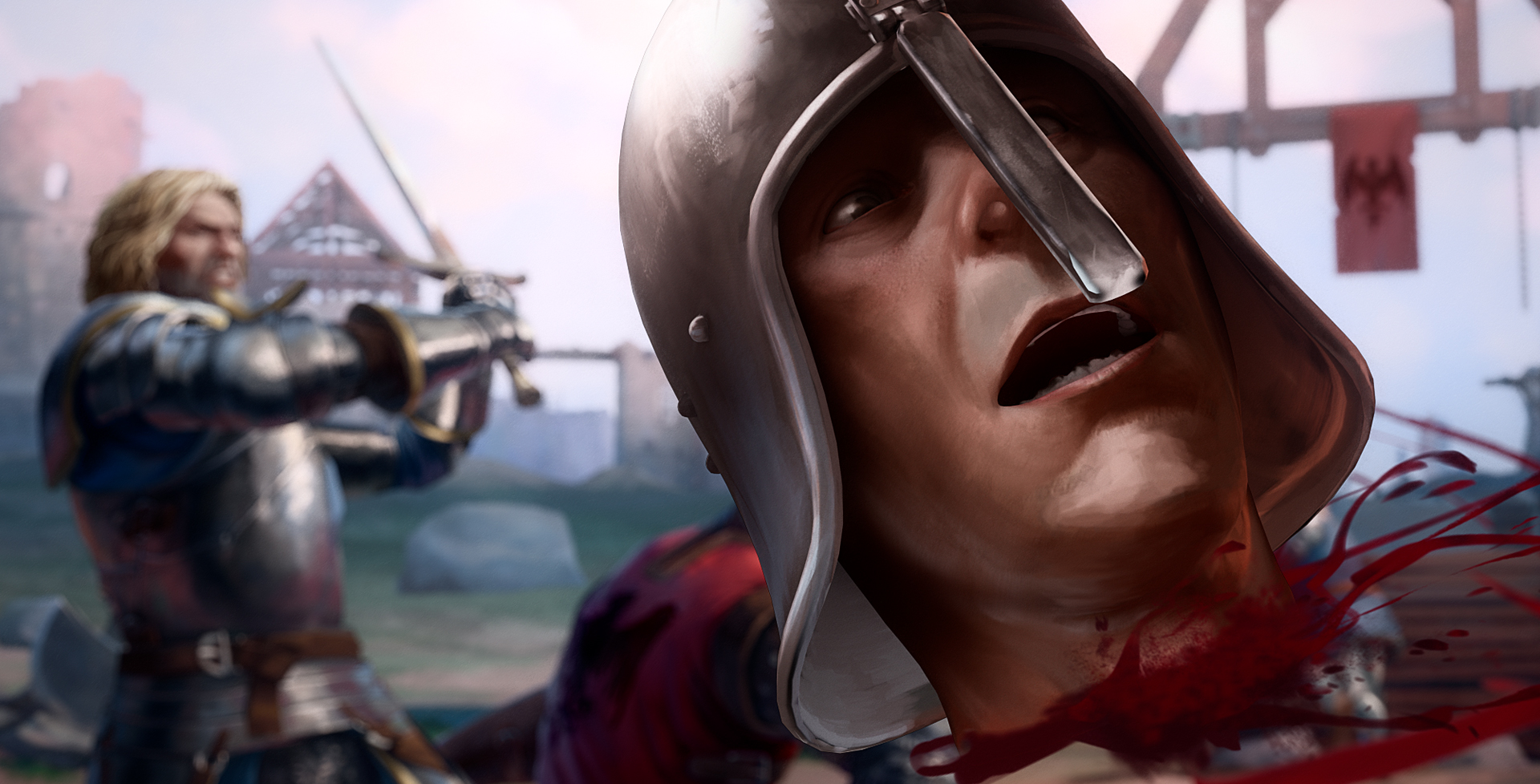 Good day, good knights! We'd like to share a brief update as we move towards the end of the apocaly… uhh, we mean, year of 2020.
Chivalry 2 remains on track for our target release date in 2021
We'll have more information about a specific release date in the coming months. We mentioned in our last update that our decision to delay from 2020 to 2021 would mean "more maps and game features will be playable at launch than we had originally scoped" – and we absolutely mean it! Everything shown publicly, in videos and our hands-on booth at PAX East earlier in 2020, only skims the surface of what players can do in Chivalry 2. Alpha testers have had only a small peek behind this curtain, with much more content still undergoing internal testing. 
Our team has been quietly but intensely working on a host of new content and features, in addition to polishing the game to a fine shine, and ensuring our capacity to launch a network stress-tested game in 2021. Our melee combat system has seen some important improvements since in-game footage was last shown, never-before-shown maps are under completion and testing, as well as many other surprises in store. 
We're very excited to come to PC, PlayStation 4, PlayStation 5, Xbox One and Xbox Series X|S all for a simultaneous release date in 2021. Stay tuned for more information about Chivalry 2 on console platforms. 
The Chivalry 2 Closed Alpha continues in time-limited rounds
As of Dec 18, Alpha Round 10 is in progress until Dec 21 – with an exciting milestone: this is our first Alpha that features Cross-Play between Xbox One testers (via the Xbox Insider Program) and the existing group of PC testers on Epic Games Store. 
All Alpha tests remain under NDA.
For Alpha Round 10 and onward, the rules of the NDA now allow players to converse through text-only (no media, screenshots or video) on certain public TBS-moderated channels: the Chivalry 2 Discord, the Torn Banner Studios Forums, and the Chivalry 2 subreddit. PC players are encouraged to also join our private Discord alpha areas (following instructions in their key emails) to give more specific feedback and report bugs to our team.
Alpha Round 9 also recently finished, running Nov 26-29. Alpha Rounds have run approximately every month, mostly for 3-4 days at a time (and some occasional, single day technical tests). We're finding this format works well for us to stress-test matchmaking over a limited period of time, as well as helping us to fine-tune combat mechanics and new features in quick bursts. 
Tens of thousands of registrants have been invited to the Chivalry 2 Alpha since it began in March. If you haven't received a key yet, do hold tight – we plan on releasing more and more Alpha keys as we continue our round-based approach. 
Expect the rest of 2020 to be quiet. But the Lion will roar in 2021!
Rather than trying to make noise during the busy holiday gaming season, we've been keeping the game mostly under wraps until 2021. Throughout 2020 we've been sharing progress through teasers such as gameplay GIFs and weapon videos, while we continue to polish the game up to a high standard for future trailers, beta and full release. This year, we shared the lore trailer, had our first media hands-on, debuted Team Objective mode at PAX East, and announced consoles with crossplay.
2021 will see a ton of reveals, new trailers, and more. 
We leave you with a video compilation of our recent weapon model showcases:
Onward to 2021, noble Agatha Knights and warriors of the Mason Order!