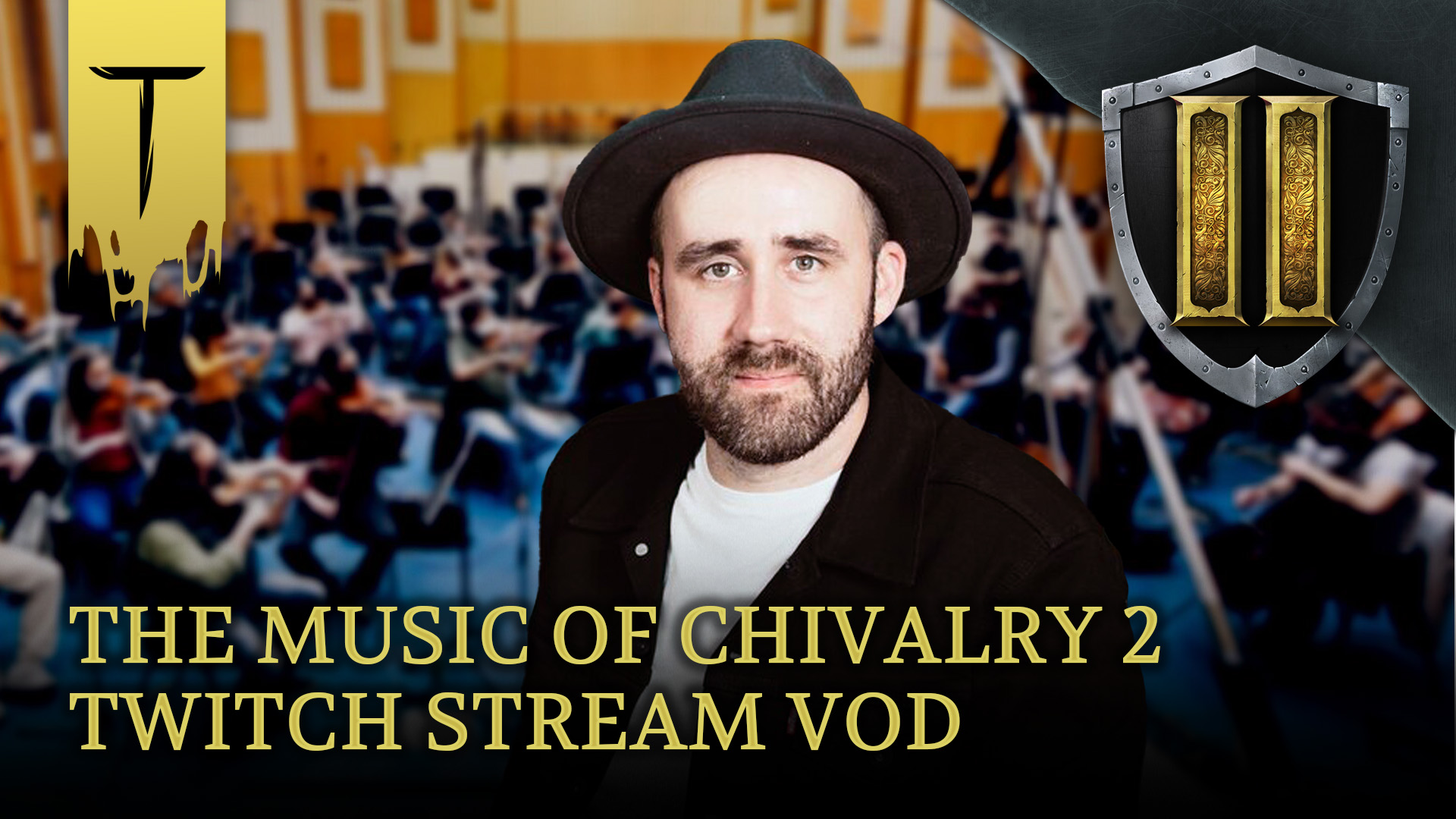 Welcome to another Twitch stream recap blog! We're hosting biweekly streams on our Twitch channel where we talk to Torn Banner developers, community members, and we'll soon be debuting upcoming features! Be sure to follow us over on our Twitch profile so you get notified every time we go live.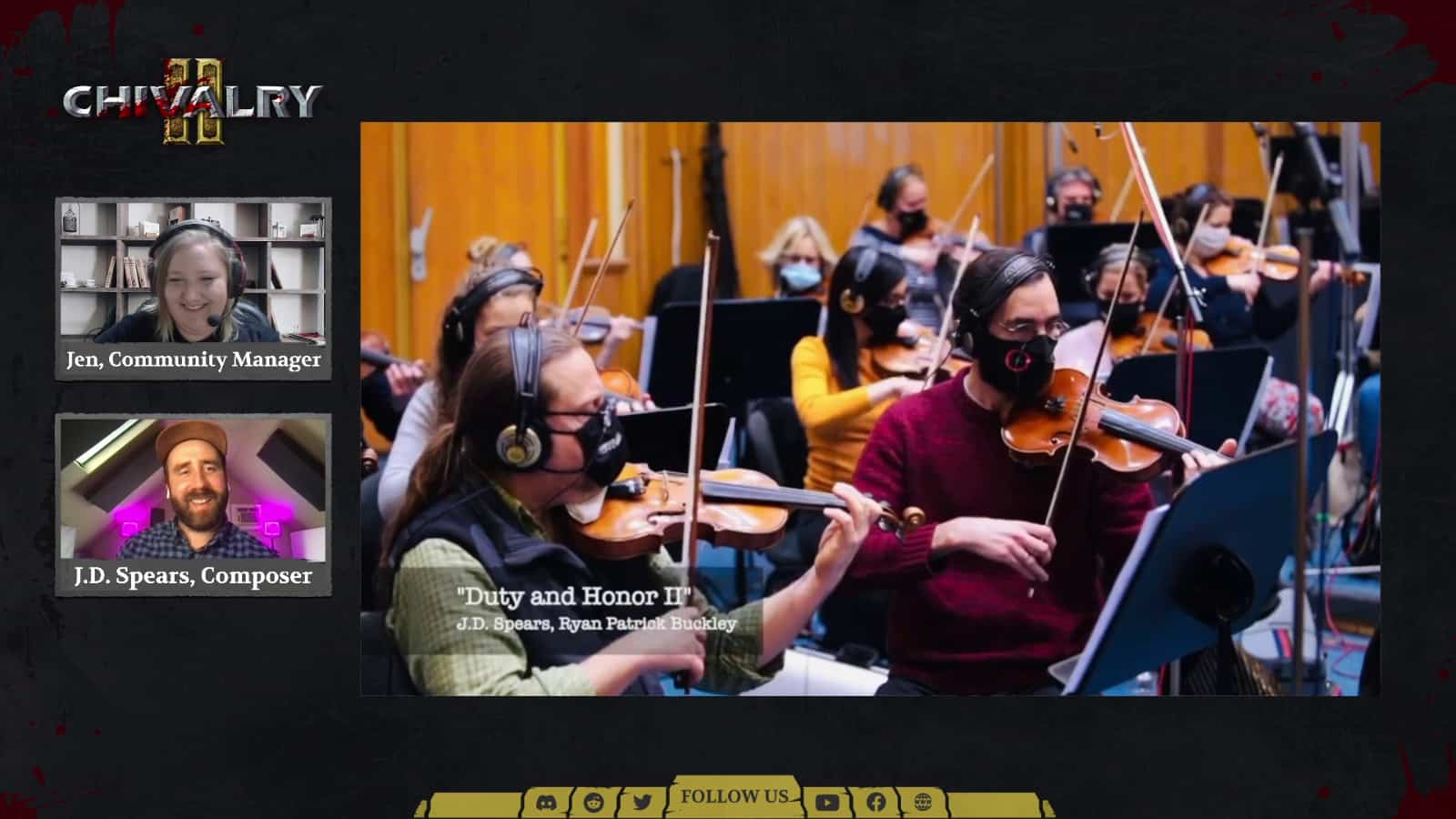 You can watch a VOD of our latest stream here on our Twitch channel, or archived on our YouTube channel below.
J.D. Spears is the man behind the music of Chivalry 2. As a composer, J.D.'s multi-genre work has appeared on multiple television programs including HBO Max's Ravi Patel's Pursuit of Happiness, Comedy Central's The Daily Show, and A+E Networks's American Pickers. Most recently, J.D. scored Torn Banner Studios' critically acclaimed video game Chivalry 2. The music has been celebrated and was recently featured by BMI's (Broadcast Music, Inc.) Composer Series, the G.A.N.G. (Game Audio Network Guild) Composer Spotlight, and The Game Awards.
JD has composed many tracks for all of the different scenarios that you hear music in-game. This includes, but is not limited to, warmup music, dynamic music during gameplay, match ending music, map specific music, the main menu music, and more.
For the Chivalry 2 Original Game Soundtrack, J.D. had the opportunity to have the Budapest Scoring Orchestra perform all of the iconic music. Take a look at this compilation of footage from the Chivalry 2 recording sessions in Budapest, Hungary.
On stream we showed off a few of the new songs that joined the Chivalry 2 soundtrack in the Tenosian Invasion update. The full set list of songs will be available at a future date, but you can preview these two now:
Creating an all new sound for the Tenosian Invasion update was certainly a monumental task, but J.D. explains how he was able to nail the new sound while keeping all of the new music in the same spirit of the Chivalry 2 universe. Composing music for the Tenosians allowed for an exploration of sound unlike that for Agatha or for Mason. One of the major additions to the musical sound of Tenosia was the wonderful Hayat Selim and her angelic high notes. See her recording some of the Tenosian music in the video below.
In addition to working on all of the new music for Chivalry 2, J.D. also worked alongside Chivalry veteran Ryan Buckley to rework one of the fan favourites from the Chivalry franchise – Duty and Honor. You've no doubt heard it in-game, but here is Duty and Honor II for your listening pleasure.
Upcoming Streaming Schedule
Be sure to follow the Torn Banner Studios Twitch channel and join us for our next Twitch stream on September 1st where we'll be going over the plans for the Reinforced Update, as well as giving you a release date. Be sure to stay tuned.
You can always stay up to date on the bigger items the team is working on at the Chivalry 2 Road Map. And don't forget: for help be sure to visit the Chivalry 2 Knowledge Base and Support Site, community discourse – Discord, follow us on Twitch, and read all the latest news on our Social (Twitter & Facebook).