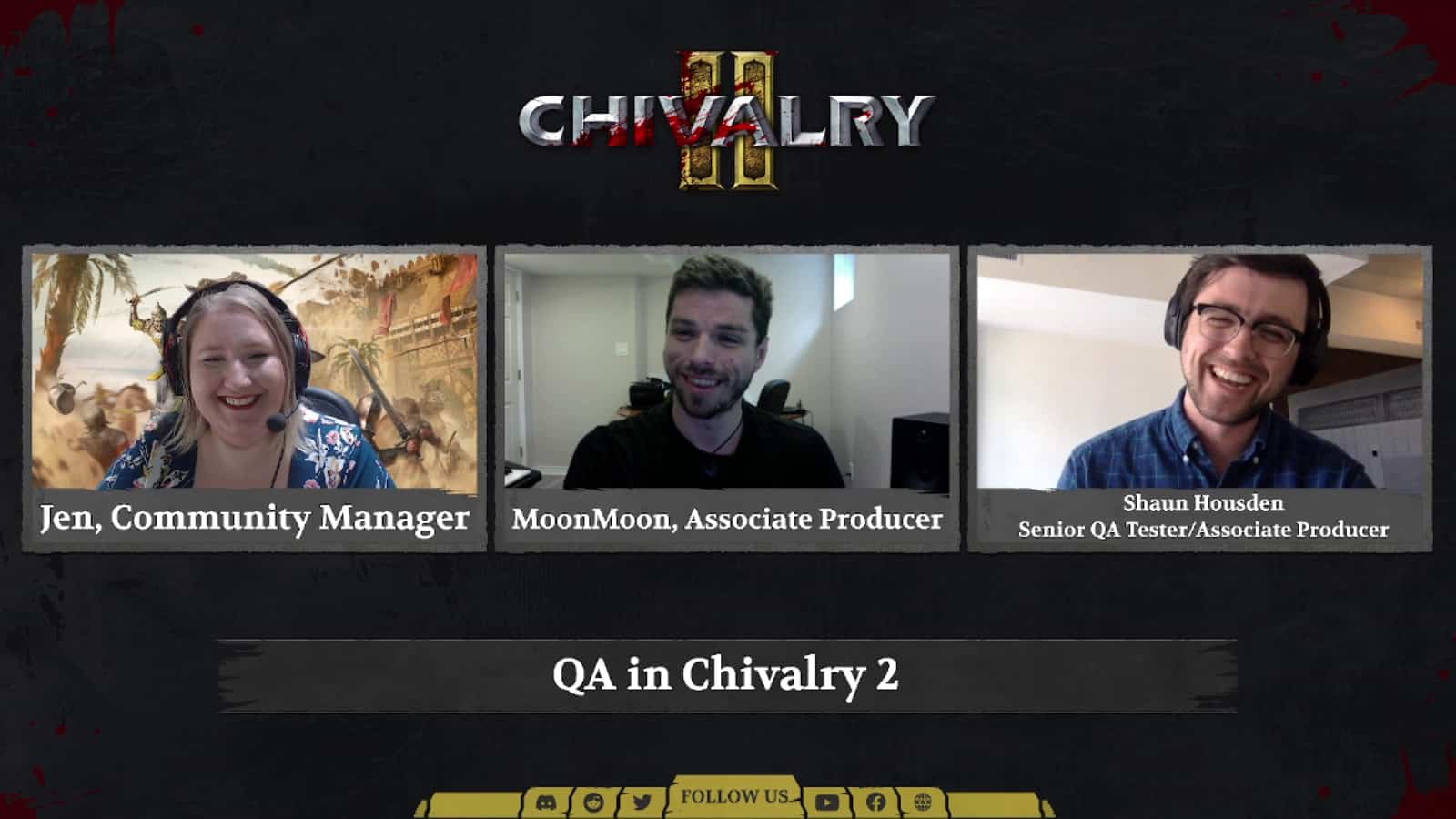 Welcome to another Twitch stream recap blog! We're hosting biweekly streams on our Twitch channel where we talk to Torn Banner developers, community members, and we'll soon be debuting upcoming features! Be sure to follow us over on our Twitch profile so you get notified every time we go live.
You can watch a VOD of our latest stream here on our Twitch channel, or archived on our YouTube channel below.
Our developer guest was Shaun Housden, Senior QA Tester and (almost) Associate Producer at Torn Banner Studios. Shaun is one of the members of the Quality Assurance department for Chivalry 2. While he will be transferring into another role soon, he took the hour to sit down and talk to us about what it is like working in QA in the games industry, and on Chivalry 2 specifically.
What is Quality Assurance?
As the name suggestions, QA are responsible for assuring that quality is maintained throughout a games development. They test the game to make sure everything is functioning as intended, logging bugs for programmers to investigate they come across, and then check that the fixes are working as intended. QA involves documenting, reproducing, and reviewing any issues that affect the game, both in the live game and during the production of the game.
Our QA team on Chivalry 2 works on maintaining the integrity of the live game as well as doing QA work on upcoming new content before players get their hands on it. There is definitely a balancing act that is done to make sure that both of these are handled with care to keep the players happy! The QA team also handles QA across multiple different platforms for PC and console. There are many layers which is why it's important for everything the team does to be well documented, so that the entire team can stay on track.
Hunting for Bugs
When a bug is found, whether it by by the community members and passed to the QA team via the Community department or it's found by QA themselves, the bug is added to a triage list in Jira. The QA member includes all relevant information needed, including: how to reproduce the issue and what platform it happens on with detailed steps, what the intended behaviour is supposed to be, and usually includes photo or video of what the issue is. All of the detailed info helps our programmers solve issues in a more timely manners since they can get right to work without having to ask for more information.
It is the job of the the Production department to categorize the issues, indicating their severity and in what order they should be resolved in. Major issues, as the name implies, are bugs critical to gameplay that prevent players from playing. Minor bugs, which may not impact the overall gameplay but are still not working as intended, are less critical and are categorized as such.
QA is a job that requires a careful eye for the details, and is repetitive nature. Features of the game need to be regression tested with each update to make sure that nothing has happened since the last time the features were checked. This means reviewing the same content on a regular basis to ensure parity. It is possible that new features could somehow negatively affect old features, which is why a solid QA team is very important to the health of the game.
Getting Started in Games
A number of the developers on our team got their starts on the QA team, before moving naturally into other roles as their skills and interests evolved. If you are interested in getting started in the games industry, an entry level position in QA is a solid way to get your foot in the door especially if you don't have a lot of experience. Finding a way to volunteer your time or find internships at larger studios is a way to build experience, so you can use that experience on your resume in the future. Experience can go a long way in showing your capabilities in a working environment, often times winning out over an education in the field if the person doesn't have the experience to match.
Something that aspiring game devs might not think about is the type of work environment they're looking for, whether the games a studio is producing are live service games or not. Chivalry 2 is a live service game – a title that provides frequent free updates for players to keep players playing on a regular basis. This means that as soon as work is finished on one update, the teams start work on the next one for an indefinite amount of time. As previously mentioned it also means that resources are split between maintaining the live game and reviewing up and coming new content – which adds another layer of complexity to the job. Live service games are generally fast paced and require quicker iteration, with quicker turn around times to solve critical bugs or issues that may be affecting players.
When it comes to tools of the trade: we use an issue tracking software called Jira along side Confluence for documentation in order to help keep the bugs logged. Knowing how to use these and similar software will reduce friction when onboarding at a future studio. Shaun also recommends knowing your way around a spreadsheet because if you want to work in QA you'll definitely have a few of those kicking around.
Like Shaun, if you're interested in moving into different departments after working in QA, having QA experience on your resume can definitely help. It can also allow you time to spend learning other useful skills in other fields that may interest you. Having good problem solving skills, knowing how to properly gauge the severity of certain bugs or issues, cataloguing and organization, these are all skills that will greatly help you with any position in the industry.
We want to thank Shaun for taking the time to tells us all about the job, and we're excited for him to be taking on his new role as Associate Producer very soon!
Upcoming Streaming Schedule
Be sure to follow the Torn Banner Studios Twitch channel and join us for our next Twitch stream on July 28th.
You can always stay up to date on the bigger items the team is working on at the Chivalry 2 Road Map. And don't forget: for help be sure to visit the Chivalry 2 Knowledge Base and Support Site, community discourse – Discord, follow us on Twitch, and read all the latest news on our Social (Twitter & Facebook).