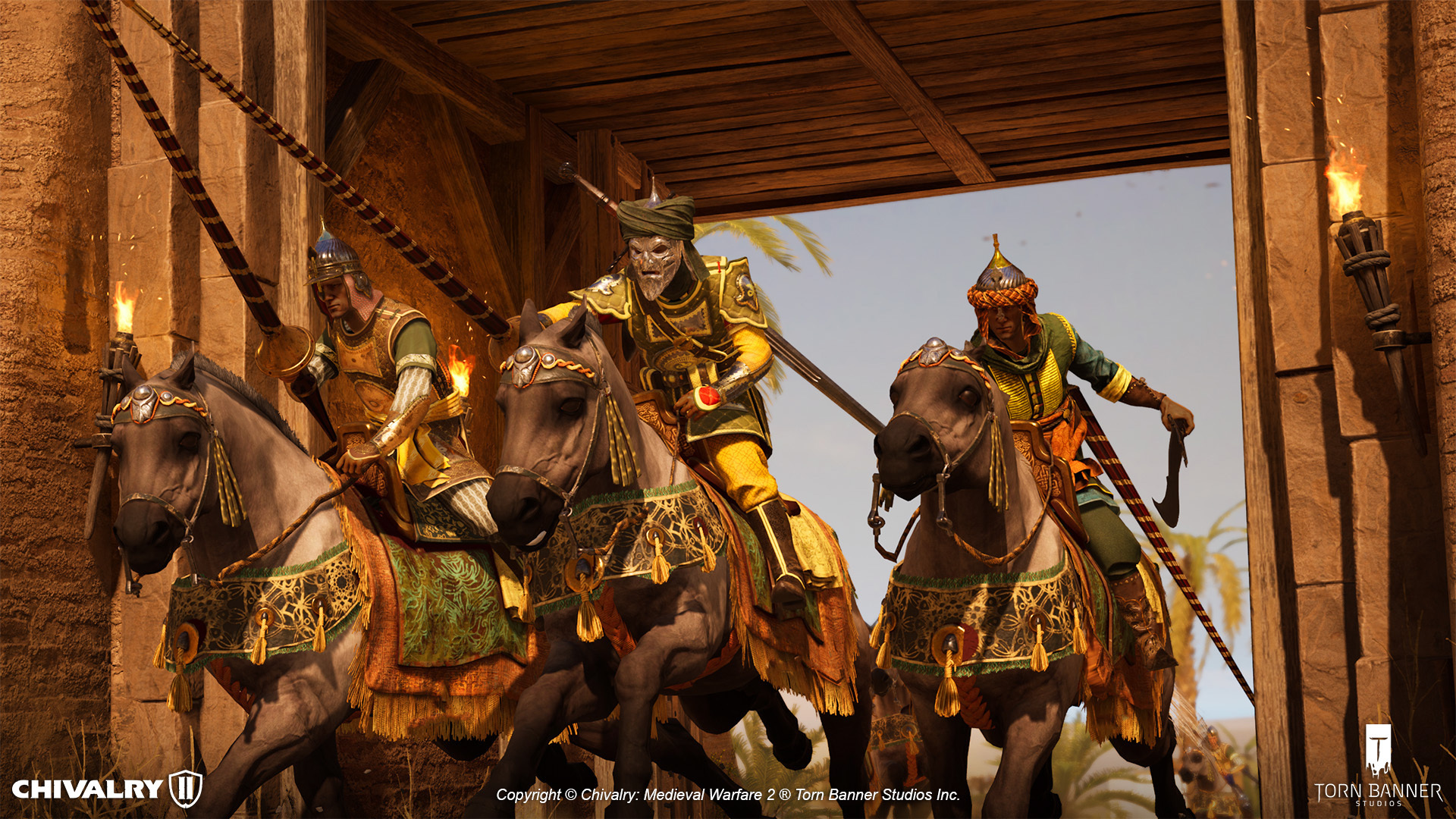 The exciting reveal of the Tenosian Invasion comes with a swarm of new questions, some of which we're going to be talking about during our next stream, coming later today. Be sure to join us on Twitch today at 2pm ET for a first-look at the upcoming Tenosia customization, and more.
For now, here is a FAQ of some hot topics we've been seeing from players:
When will we see the Tenosian Invasion?
The Tenosians invade June 12, 2022. You're going to want to practice your skills as there will be waves and waves of new enemies (and allies) to encounter! 
Is the Tenosian Invasion Update available for all platforms? 
Yes! The free Tenosian Invasion update is coming to Epic, Steam, Xbox, and PlayStation simultaneously.
Is the Tenosian Invasion Update the same as the Steam Release Update? 
Yes! It is all one update happening the day of our exciting Steam release.
Will there be Cross Progression?
In an earlier community update we mentioned we have multiple teams working on both the "Tenosian Invasion" and the "Reinforced Update" which will feature crossplay parties. As part of a future update you will be able to transfer your progress from your account on EGS to your account on Steam. 
How can I get the Steam-Exclusive Helmets?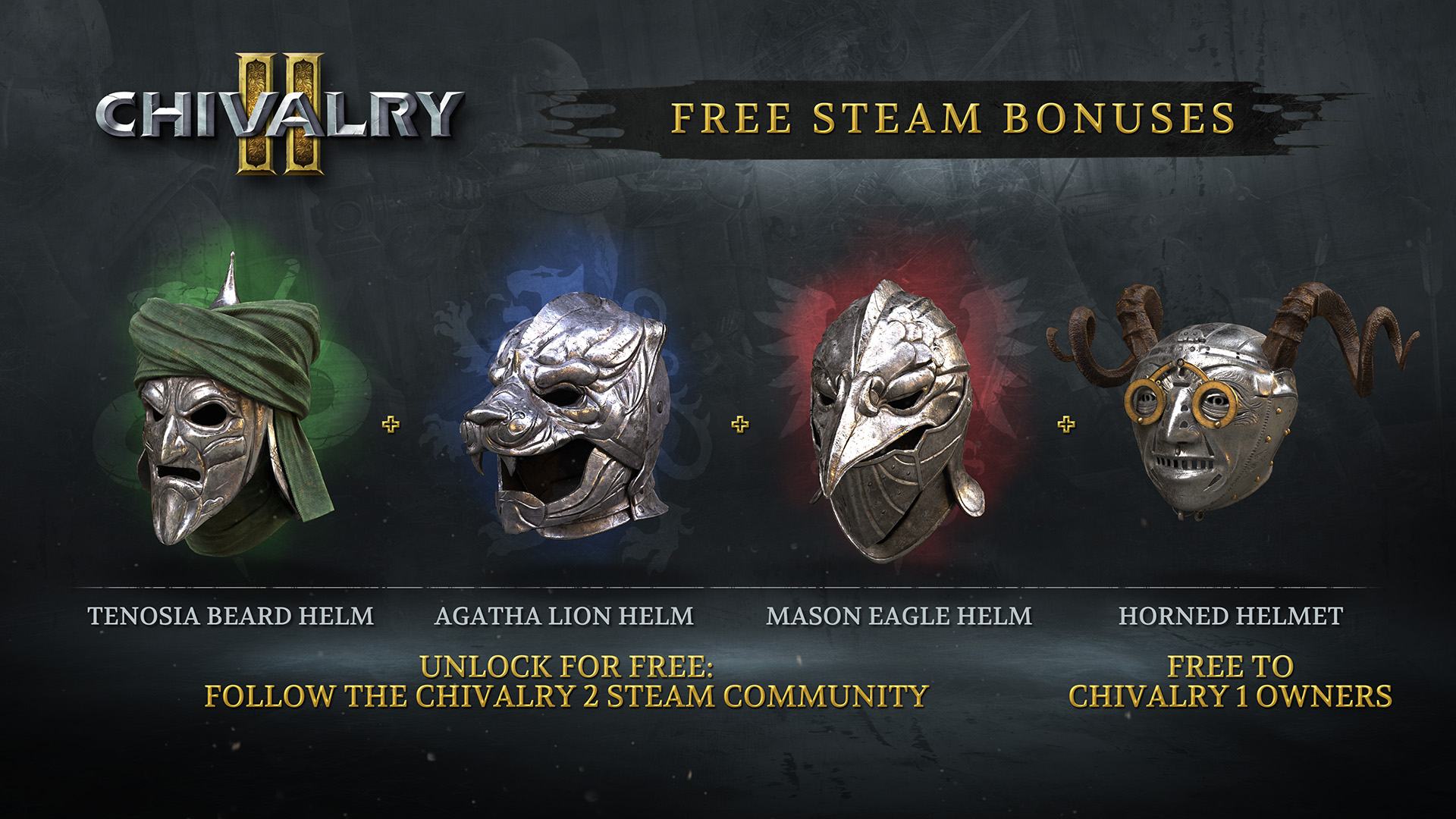 The Tenosia Beard Helm, Mason Eagle Helm, and Agatha Lion helmets are timed exclusives available to players who buy the game on Steam who also follow the Chivalry 2 Steam Community, available here.
The Horned Helmet similarly will be available to Chivalry 2 Steam Owners who also own Chivalry: Medieval Warfare (Chivalry 1) on Steam. 
Non-Steam owners fret not! These four helmets are timed exclusives, meaning they will become available to others at a later date.
Which Faction & Class can we wear these helmets on? 
The Tenosia Beard Helm, Mason Eagle Helm, Agatha Lion helmets, and Horned Helmet can be worn on any class, granted that you are on the appropriate team (Agathians can only wear the Agatha Lion Helmet, etc). The Horned Helmet can be worn on any team, any class.
Who is Tenosia? 
More on this soon, but to "prime the bombard"… Tenosia is a new playable faction of fierce intelligent warriors from the south. The Agathian Knights had decades before tried to invade these lands and failed, resulting in the death of King Argon I and paving the way to the rise of Malric and the Mason Order. Now, in the midst of the chaos in the second civil war, the Tenosians strike, determined to expand their empire and exact revenge on the barbaric northerners. 
How do Horses Work?
While we have teased horses since launch (we're looking at you, dead horse in the tutorial area), they haven't made an actual appearance in-game until now. Soon we'll be talking more about how they work and their place in the current game. Keep your eyes peeled for further details!
Can Steam players play with Epic players on server browser or matchmaking?
Steam players, Epic players, and console players can all play together in matchmaking or server browser.
Can PC and console players play together in duel servers?
During the development of the console server browser we kept tabs on discussions within the community, in particular those voicing concerns that console and PC players together on duel servers may not be the best playing experience. There were multiple reasons for this, such as console players not being able to see text chat, or be aware of the implicit "etiquette" of duel servers established by PC players over the last year. On the flipside, we've seen many passionate community members overwhelmingly ask for us not to split the community between PC & console when it comes to duel servers. We see the value in trying this out, given that we have the flexibility to make rapid changes if need be. 
As such, we will no longer be splitting the console and PC servers and instead allow anyone on any platform to join the same duel servers. We will continue to monitor the playing experience for all players and your feedback going forward. 
Can Steam players party with Epic players?
Steam players and Epic players will be able to party together for our cross platform parties update, slated to be the next big update on our list.
Are the 3 Team Objective matchmaking queues permanent?
No, in the same way that the Galencourt update saw the arrival of a featured "new maps" playlist, the Tenosian Invasion playlist will see its own featured queue that will be removed at a later date. For now, we want to give the option to players who want to exclusively play the new maps and horses.