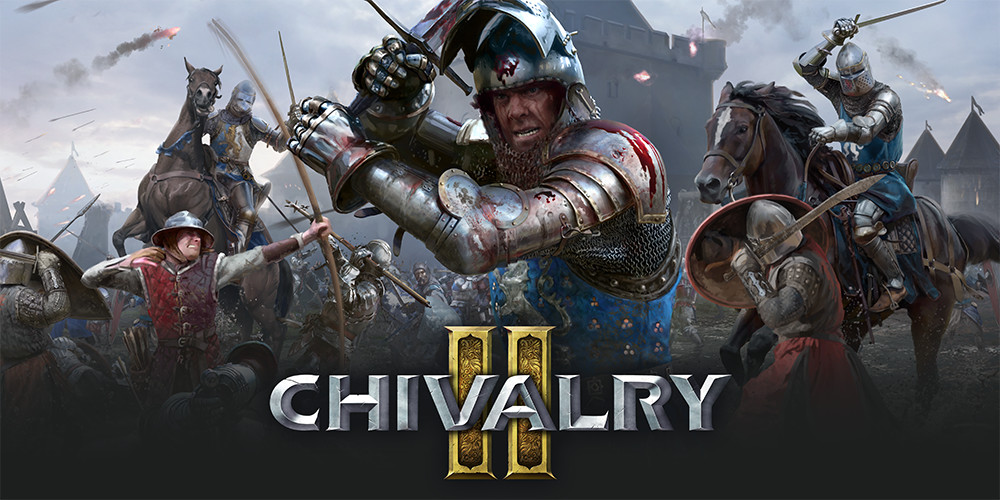 Salutations warriors, peasants, and archers alike! We are just under 2 months to launch and our studio has been busy sharpening our swords, reinforcing our heads, and squashing bugs as we get ready for our fast-approaching release date.
Pre-order Now! 
Chivalry 2 can now be pre-ordered for the following platforms, with cross-play enabled: 
PC via the Epic Game Store

PlayStation 4

Playstation 5

Xbox One

Xbox Series X|S
Visit our Buy Now page to see all available storefronts (both digital and physical): chivalry2.com/buy
Chivalry 2 launches June 8, 2021 and will cost $39.99 USD on all platforms at launch for the Standard Edition. The Special Edition will cost $49.99 USD on all platforms.
Closed Beta: 
Speaking of pre ordering… purchasing a digital copy through Epic, Sony, or Microsoft's online stores will land you a sweet opportunity of getting into our upcoming Closed Beta, taking place from April 23 – April 26.

The Closed Beta will feature all available platforms:
PC via the Epic Game Store

Xbox One

Xbox Series X/S

Playstation 4

Playstation 5
Closed Beta Maps
The closed beta will feature a sample of some of our epic (pun intended) maps slated for launch including:
The Fall of Lionspire


The Siege of Rudhelm


The Battle of Wardenglade


Tournament Grounds


Upcoming Changes for Launch
Note: this section is easier for Alpha testers to understand, though we hope it provides some clarity on our general progress towards our launch build for those who haven't had the opportunity to test out Chivalry 2 prior to the Closed Beta.
Since March 2020 we've run regular Alpha Rounds to tweak and test Chivalry 2 as we've moved through its development. We have continued gathering bugs and collecting valuable feedback after every alpha round, and this has directly translated into a ton of fixes on the way for launch. While many won't be making an appearance in the closed beta, we are making great progress polishing the brutal but magnificent world of Chivalry 2.

Instead of making you wait to see what we're polishing, we have a teaser list of improvements in progress for launch. This doesn't encompass everything (in fact, this is a pretty bite sized appetizer), but instead offers a sample of the hundreds of changes you can expect for June 8th: 
Improved hit detection consistency

Continued combat balance

Threading improvements in Direct X 11, giving a good boost to framerate

Improved server connection experience

Hitching fixes

Fixes for blank map loads and unexpected character meshes on spawn

Player movement smoothening

Improved initial spawn experience

Party experience improvements

Localization polish

Tutorial polish and bug fixing

Improved moderation systems

Continued map balance

More customization options

Skippable splash screens on open

Saving preferred subclass preferences on initial spawns

Controller haptics improvements

Console polish across all platforms

Lots more!
FAQ: 
Q: When will the NDA be lifted?
A: The NDA will be lifted at the start of our Closed Beta, which runs from April 23-26. From the Closed Beta onwards you can begin to record and share your glorious conquests for the world to see!
Q: If I pre-order Chivalry 2 digitally during the Closed Beta weekend itself, will I still get access to the Closed Beta?
A: Yes. You'll get immediate access and can play until the Closed Beta is over (The Closed Beta runs April 23 at 10:30am EDT until April 26 at 10:30pm EDT).
Q: On Xbox Series S|X and PlayStation 5, will the Closed Beta have native next gen versions or backwards compatibility versions?
A: The Closed Beta will include nextgen native versions, not backwards compatibility versions.
Q: What regions will be available in Closed Beta?
A: The Closed Beta Servers will have a wide range of regions, such as North America, Europe, South America, Australia, and Asia
Trailers: 
If you've been in your houses hiding from the plague or raiding enemies, you may have missed a few of our recent trailers that have come out! These ones feature the "Two Months to Launch" teaser, as well as more map trailers to sink your teeth into. 
2 Months to Launch: https://www.youtube.com/watch?v=xGJpbE8eiEU
Lionspire Map Teaser: https://www.youtube.com/watch?v=4lytDH4g4LQ
Dark Forest Map Teaser: https://www.youtube.com/watch?v=dyIDyZkEIBM
Until next time! Stay safe, make good choices, and see you on the battlefield!