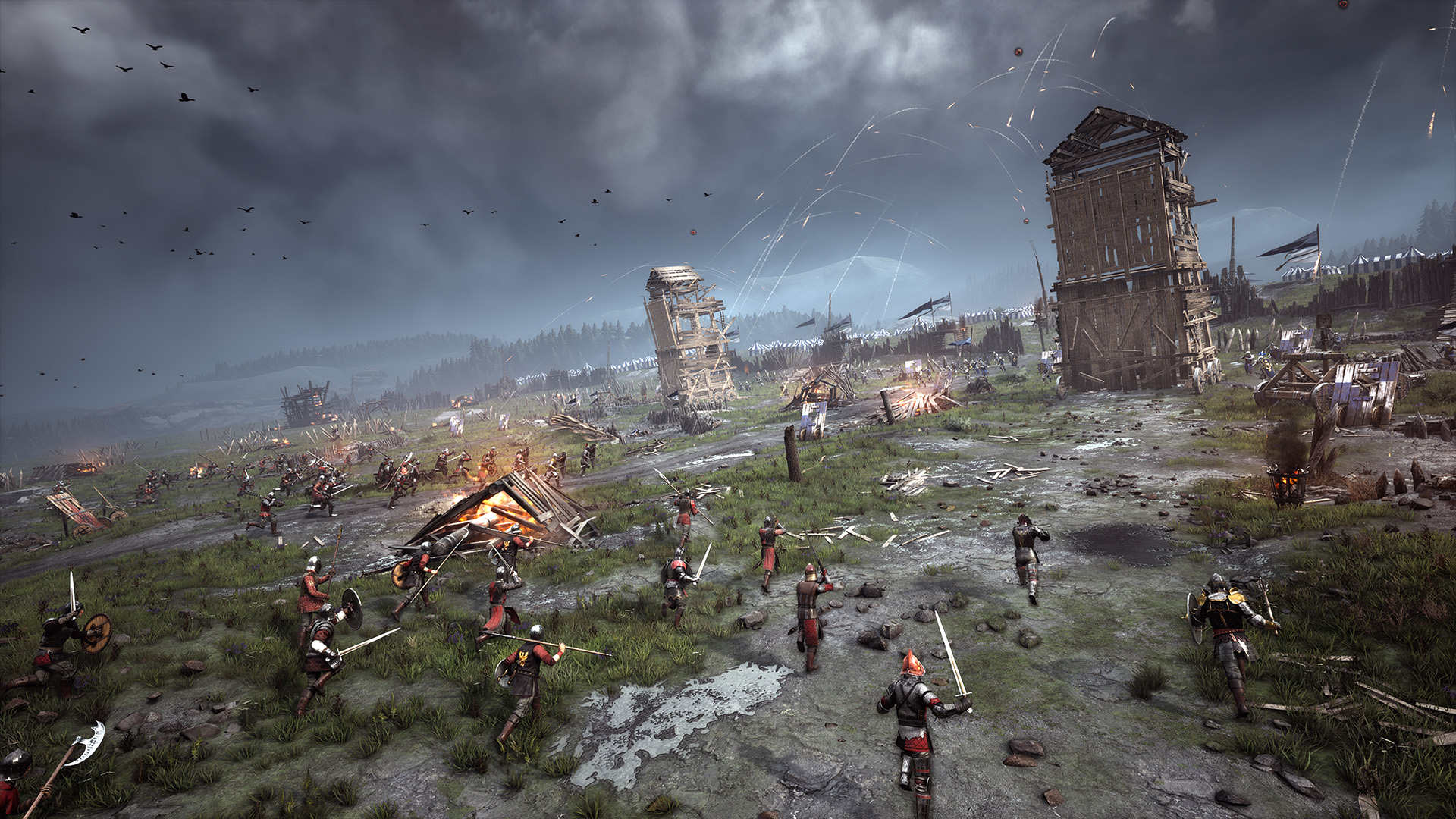 The Chivalry 2 Cross-Play Closed Beta is now over! For the very first time, from April 23-27, Chivalry 2 was playable across every platform coming at launch, with Cross-Play enabled: on PC (via Epic Games Store), PlayStation®4 and PlayStation®5, Xbox One, and Xbox Series X|S.
We want to thank players for hopping into the Closed Beta, whether you pre-ordered for Beta access or were able to get your hands on a key from a giveaway.
If you enjoyed the Closed Beta, we hope to see you again at launch. Pre-orders are available for all platforms – and still come with an awesome perk for pre-purchase: the Royal Zweihänder weapon.
We also appreciate the huge amount of feedback and bug reports that have been sent our way already. We understand the success of Chivalry 2 will depend on how closely we listen to the community. Our goal is to make as fun a game as possible – and the only way we'll know is by hearing from you!
What's next?
We are now on the final road to launch on June 8, 2021. We don't have any additional Beta opportunities to announce at this time, but it wouldn't be very chivalrous of us to shoot down the idea entirely.
Is the NDA lifted?
Yes – as of the Closed Beta, there is no longer a Non Disclosure Agreement for new footage of Chivalry 2. Footage recorded during the private Closed Alpha rounds (from March 2020 to April 2021) is not allowed to be shared however.
Can I keep playing the Beta?
Sorry, but no! The Beta is over and the Beta app will no longer be usable to access the Closed Beta on any platform.
I played the Beta! Where can I talk to people about it?
Our main headquarters for players is the official Chivalry 2 Discord server.
You can also chat with other players on the subreddit and find us on Twitter and Facebook too.
I had technical issues during the Beta, how can I reach out?
For technical support, please open up a ticket on our Support Site or find answers in our Knowledge Base: http://support.chivalry2.com/
How can I ensure Torn Banner Studios and Tripwire see my feedback?
You can leave us feedback in our two surveys:
Why was there a Closed Beta?
Our goals for Closed Beta were to do a very large scale of testing during a short period of time, as well as present a relatively polished version of the game for players to sample prior to launch. The Closed Beta allowed us to monitor network performance, catch major bugs with high reproduction rates, do large-scale stat tracking of gameplay, and of course – gather feedback and hear what players think of the game as we approach the full launch in June.
Will my progress reset between the Closed Beta and launch?
Yes, player experience progress will reset.
What has the development team learned from the Closed Beta already?
Here's some of the most prominent feedback we've heard from Closed Beta players:
Network/hit detection/lag issues
Parties not working
Matchmaking – either not working, or ending up in a server with 200 ping
Various, miscellaneous bugs!
We will continue to dig into feedback and bug reports as they come in. In the meantime, here are a few improvements and changes coming to launch based on community discussion we've seen during the Beta:
For same-platform parties, the Party system is intended to be fully operational at launch
Cross-platform and cross-generation parties (PC to PS5, PS4 to PS5, etc) and a server browser for console platforms are under investigation without a timeline at this moment, but we know these features are important and hear your feedback
Dedicated duel servers will be available at launch (at launch these will be simple servers without duel rules or ladders; just "honor-based" play)
Lower playercount servers
Improved client gameplay security
Tutorial VO will be re-recorded (for launch or soon after)
Further balance around healing items and abilities (e.g. Healing Banners)
Improvements to auto-aim for console players
Matchmaking user experience improvements
More incentive for breaking enemy constructables
We will investigate further options for dealing with specific teamkill examples (e.g. getting teamkilled by someone who wants to use the ballista you're on)
Improved hit detection consistency
Continued combat balance
Threading improvements in Direct X 11, giving a good boost to framerate
Improved server connection experience
Hitching fixes
Fixes for blank map loads and unexpected character meshes on spawn
Player movement smoothening
Improved initial spawn experience
Party experience improvements
Localization polish
Tutorial polish and bug fixing
Improved moderation systems
Continued map balance
More customization options
Skippable splash screens on open
Saving preferred subclass preferences on initial spawns
Controller haptics improvements
Console polish across all platforms
Lots more!
We had mentioned some of these in our April Development Update too. A large number of launch version improvements are already well underway since our Closed Alpha tests wrapped up in March and April, but these improvements were not yet present in the Closed Beta.
The list above is not exhaustive, but a selection of issues we are committed to work on.
We want to thank you all again for taking part in the Cross-Play Closed Beta, and can't wait to return to the battlefield once more.
Before you go – be sure to check out our Closed Beta Video Contest and drop in an entry if you can!
⚔??For glory! ⚔??