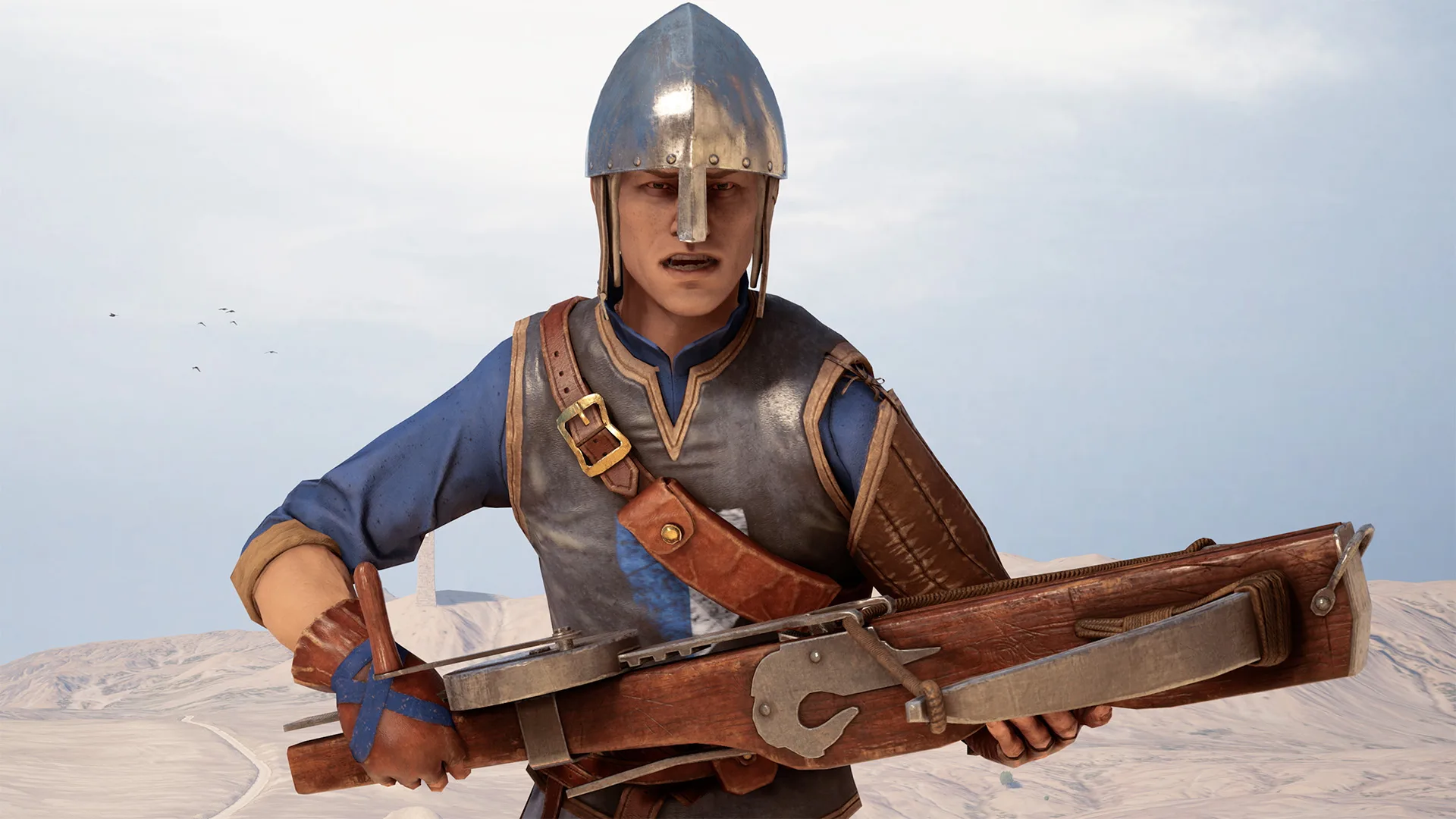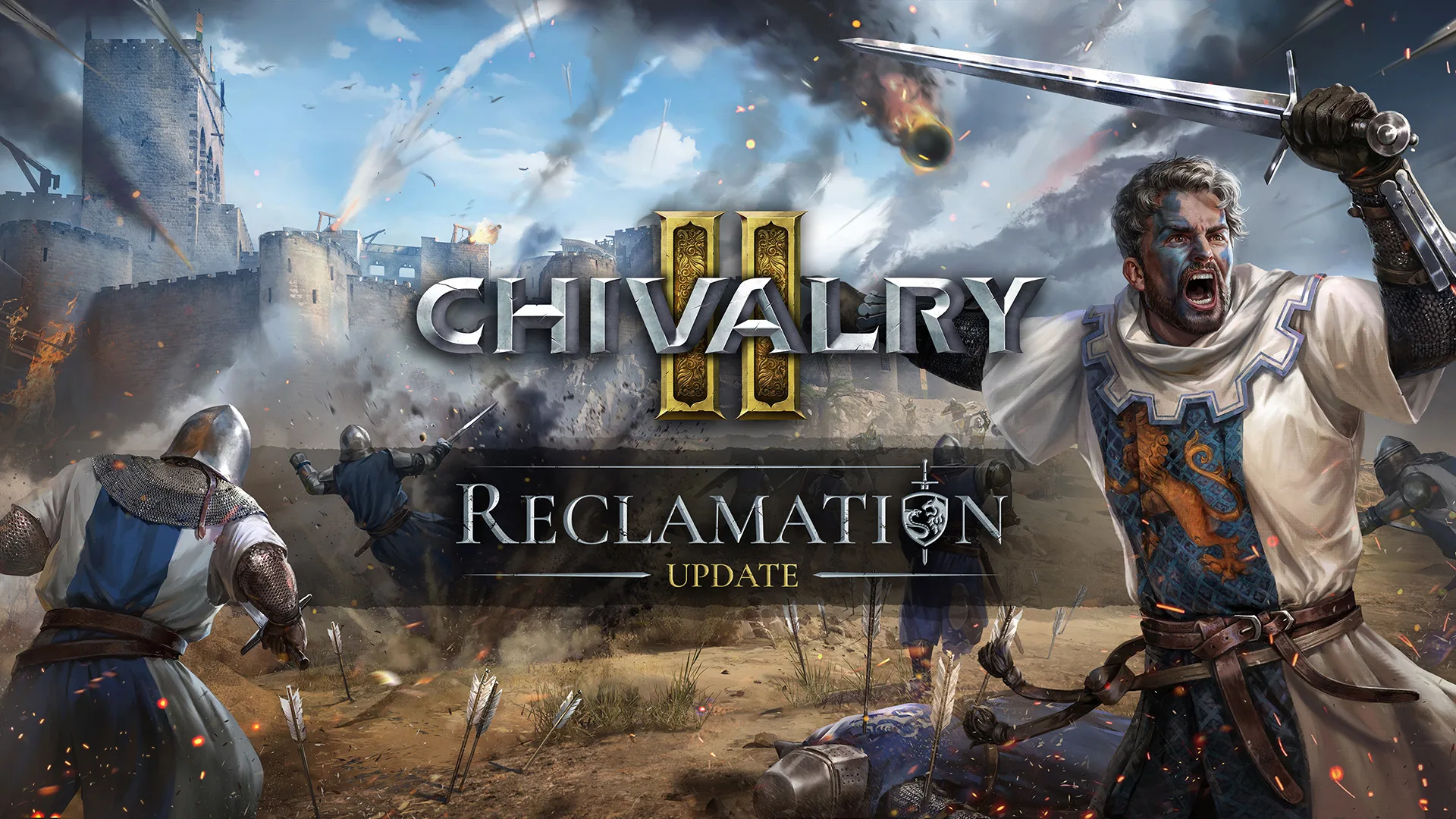 Knights,
The Reclamation Update (2.9) will be in your hands tomorrow, November 7. Chivalry 2 players will get to dive into the huge new Team Objective map The Reclamation of Montcrux, try out the new Siege Crossbow, and play new limited time game mode types, along with improvements to combat and quality of life.
With update 2.9, the Royal Zweihander and Steam loyalty helmets will be made available for all. 250 Crowns will also be gifted for free all players over the next week. 
We're also excited to be bringing additional content updates to Chivalry 2 in 2024. One Team Objective map that we're working on is an incredible one, set to deliver one of the most memorable gaming moments in Chivalry franchise history. 
Stay tuned for more updates to Chivalry 2's public roadmap.
Cross-progression
While we're pleased to be working on exciting new content and features for the game still to come, we do have some news to share today: cross-progression between Epic Games Store and Steam player profiles will not be implemented in Chivalry 2. 
We had previously said this feature would be coming in mid-late 2022, and much time has passed since then.
Overall, we underestimated the full development cost for this feature. It would have eaten up considerable development time that, throughout 2022 and 2023, would have meant a much slower cadence of new game updates to Chivalry 2 (and would have continued to do so into the future). We had made some steps towards its implementation when we first spoke about the feature, but paused development on it in 2022 while we took further time to gauge its full development cost. 
There are other upcoming features consuming significant development time that we still aim to deliver to Chivalry 2 that we know will serve a much wider variety of players, much like Crossplay Parties did, which we delivered with update 2.8.
We understand that many players will be disappointed by this news. This is not an announcement we had wanted to make either, but it is our hope that this message provides some transparency on our decision not to implement cross-progression.
New cosmetics available for all
Seeing the high number of community requests we have decided that alongside the Reclamation Update (2.9) we will be releasing the following cosmetics for all users on all platforms:
The Royal Zweihander, previously a pre-order exclusive, is now purchasable for 2000 gold

The Steam Loyalty Helmets are now available for all platforms for 1 gold
We know that many players on Epic, Steam and console platforms wanted to ensure they could access these cosmetics on their platform of choice – so we hope this provides a fair means to accessing the content in the absence of cross-progression. 
Players can also enjoy some of Chivalry 2's purchasable cosmetics with the 250 Crown gift we'll be granting to all accounts over the course of this week.
Chivalry 2 continues
After the Reclamation update, Chivalry 2 players can look forward to yet another content update in the new year – the work for which is all very much underway! 
Stay tuned for more details about this update.
Our support and love for Chivalry will continue, and we look forward to joining you all on more battlefields along the way.
Onward, to glory!