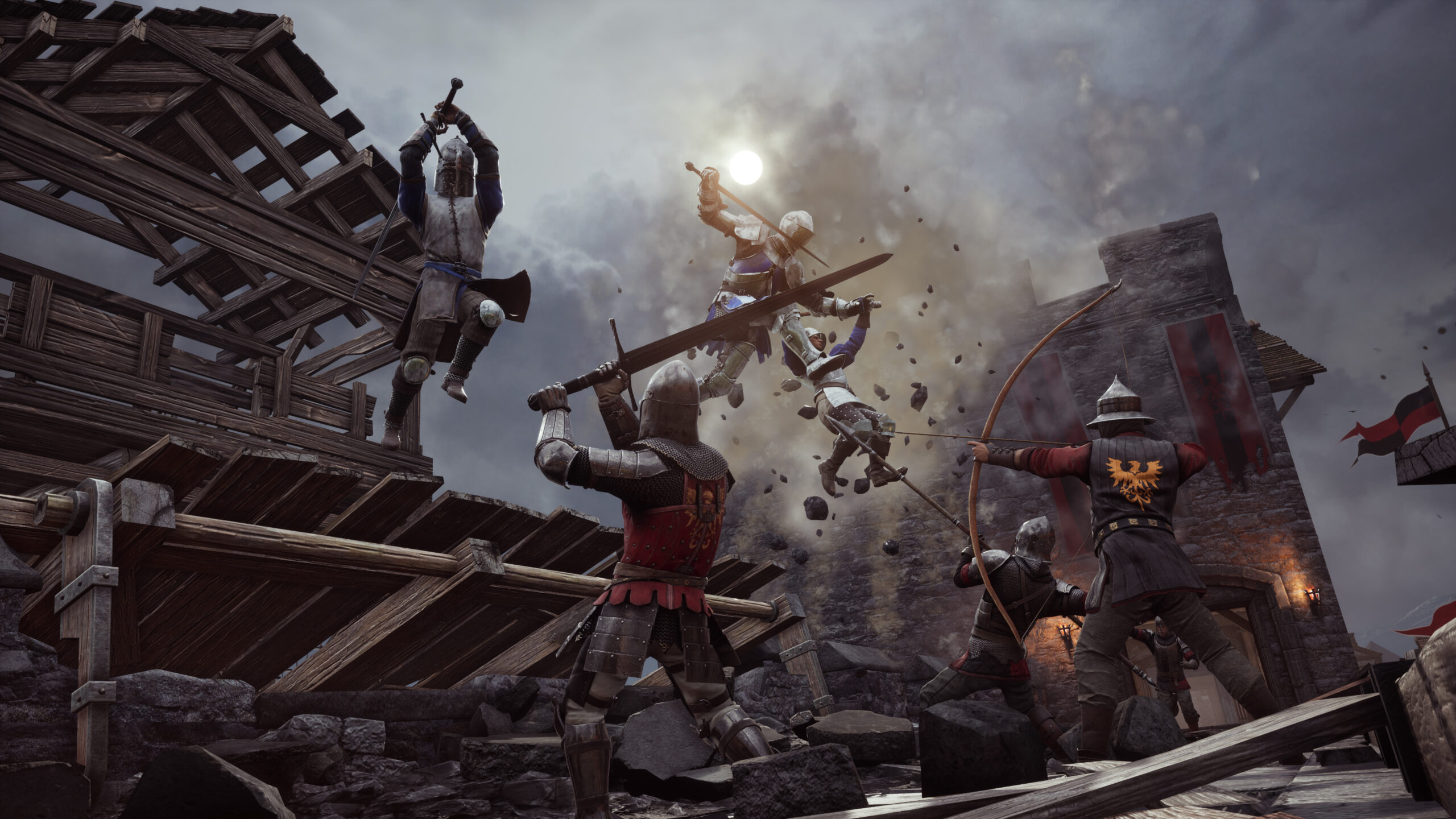 Good morrow, Knights! We're coming to you today to talk a bit about crossplay parties, coming in the next update to Chivalry 2 in "Beta" form. As we continue to work through some of our last test cases, we're excited to finally be able to share some details about the upcoming release of crossplay parties with you. 
On release, the Invite Code system and crossplay party functionality as a whole will be in Beta. This means that players should expect that there may be some functionality that does not work 100% of the time. We want to be transparent with the community in saying that there may be cases where invites or parties do not work as intended. 
We also wanted to share a brief explanation of how exactly the new crossplay party feature functions. In order to play in a party with someone on a different platform than you, you will need to add them as a friend via the new Invite Code system. This is the simplest way for us to connect everyone's player profile data over multiple consoles and platforms.
First, navigate to the Social menu.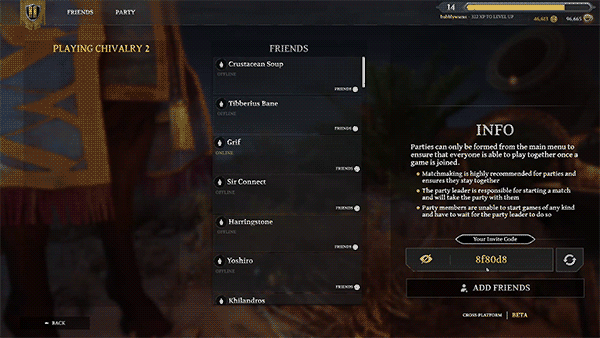 From the Friends list you will be presented with an Invite Code. You and your friend will exchange your codes with each other. Both you and your friend need to be online at the same time for the invite to be successful. 
You will add your friends using their Invite Code and the Send Friend Request option, by pasting in their Invite code and sending the request. Once you've added each other you will both appear on your friends lists and can easily be added to parties with each other. 
All of your friends across all platforms will appear on the existing Friends list in the Social menu. 
When looking at your Friends list after adding players across different platforms:
Xbox players: a gray globe icon in the bottom right corner of your friends name indicates that friend is on the same platform as you

PlayStation players: other PlayStation friends are accompanied with a blue PS icon

PC player: no separate icons are present
As part of the beta period, we have a list of minor issues currently present that we are already working on resolving in the future which include: 
Disbanding a party while a PS4 player is on a loading screen may cause invites to stop working temporarily

Signing into a different account while the game is open keeps the same friend invite code

A crash occurs when accepting a party invite after immediately being kicked from a party

New leader's name does not display for other clients on pop-up banner when old leader leaves

In game UI may be missing some players
While we don't have a definitive timeline on how long this beta period will be, we are committed to improving the system during this beta period by ironing out these known issues (and more) while allowing players to play with and make use of crossplay parties.
We hope to provide you all with a more concrete release date as soon as we're able to, but until then we'll be marching towards finally releasing this feature as well as our upcoming 2.8 content update in the not so distant future.